Okay, so the title of this blog post could be deceiving. No, I didn't get around to doing any re-dos in my kitchen this weekend, but I did change my mind about what I wanted to do with it. Well, really, I just changed my mind back to what I originally thought I wanted to do.
You might remember that I posted a while back about
my dream
to paint my kitchen, which included white cabinets and black counter tops. But before I settled on that decision, I had originally thought I wanted sage green cabinets. This was partly because I thought it would be best - for financial reasons - to take baby steps in the kitchen, and since I already have a beige counter top, I thought I could paint the cabinets and get away with it for a while until I could afford some pretty new counters. Plus, I thought the green would nicely complement my red and black decor, but not in a Christmasy way!
This is not a good pic (look at all the junk on the counters!) but it gives you an idea of what I have to work with ...
When I was putting together my
whole house plan
, I kept being drawn to white cabinets with black counters. I knew this might be a problem, because as you can see in the above, I have both white appliances and a white tile floor, both of which are in good shape and don't really need replacing. Plus, I have other things I'd rather spend my home budget on, so I thought I'd make it work somehow.
All that said, I saw a kitchen, in person, which had sage cabinets, white counter tops and black and red accents, and I fell in love.
Let me try and paint you a picture. Over by the sink and stove, the owner had actually painted the bottom cabinets green and removed the top cabinets and simply put up open white shelving. I know this is a trend, but I don't think I could ever do this because it would require me to a) only display my nice dishes and b) keep everything clean. Sounds like a lot of work! But, on the other side of the kitchen, she had kept all the cabinets - on the top and bottom - and painted them white. In addition, where the kitchen table was, there was a red sparkly bench against the wall (with underneath storage) and chairs on the other side of the table. I've always loved the bench look in the kitchen, but I'm not sure my kitchen is designed for this. This owner also had an island in the middle, painted red with a wooden counter. My kitchen doesn't allow for an island, but it looked great in hers. Also, there was a clean white subway tile as the back splash, which I've been a fan of for a while.
I know my description doesn't do it justice. I was going to post pics for you to see yourself, but since I didn't ask permission of this person to post it on my blog (I know, not very smart), I will just leave you with some similar pics.
http://kitchenbacksplashes.blogspot.com/2010/07/pictures-of-painted-kitchen-cabinets.html
http://www.flickr.com/photos/8230585@N06/3452309732/
http://www.decorpad.com/photo.htm?photoId=63824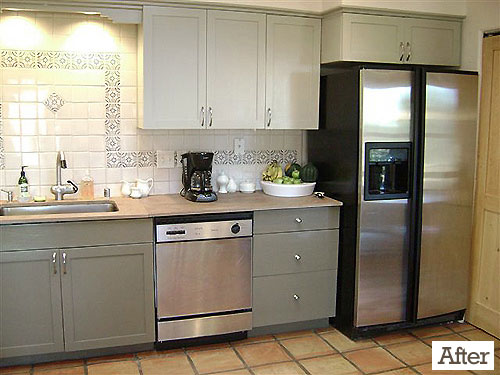 http://www.younghouselove.com/other-redos/
So, here is what I am thinking (and please excuse the second messy pics, which were taken when we first moved in and are all I have at the moment. Yes - confession - I was going to take new pics as I was typing this, but realized the kitchen was still a little dirty and didn't feel like cleaning it!) ....
We'll paint the wall a very light greenish, gray. It will be a very subtle color, almost appearing white. Then, We'll paint the wainscot on the bottom white. The cabinets on the bottom will be sage green and the cabinets on top will be white. Because these upper white cabinets will be far enough away from the wainscot and white tile floor, I think it will work. We'll put in a nice, clean white counter top and a white subway tile back splash. Also, the little built-in, in the eating area will be white. Oh, and the ceiling fan above the kitchen table will be replaced with a beautiful fixture of some sort (TBD). I haven't been a fan of the fan since we bought the house, but I knew it would one day be gone, so it was not a deterrent! The curtains have also already come down.
I love dreaming. Now, the question is when can I actually do this! Well, one room at a time and if I don't finish this dining room soon, I'll never get to move on! Plus, because this room will not only take more work but also more money, I think it may come later down the road. We'll see!